After looking at rapid drops of cheap biotech stocks, I got interested in those with slow declines over extended periods.
ENZ (Enzo Biochem, Inc.) is one of them.

The first lesson I learnt in my research is that information on slow declines is much harder to find than information on sudden massive drops. Slow steady declines just don't make the news or attract much commentary.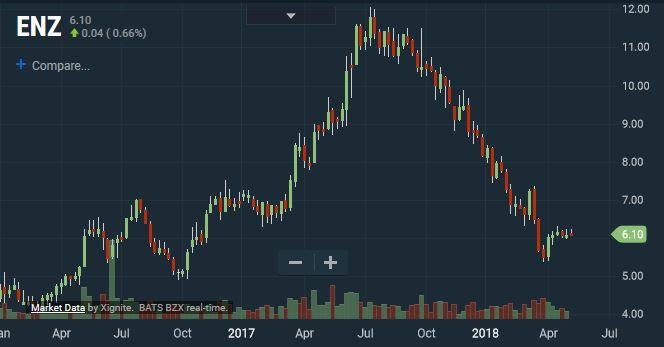 ENZ had enjoyed growth from mid-2015 to mid-2017 – from about $2.50 to $12. Good news all around. It looked like a biotech that you'd want in your portfolio.
Then the decline started – down to about $5.50 in March 2018.
What happened?
The press releases for fiscal Q4 (Sep 17) and Q1 (Dec 17) were both overall positive, but that didn't stop the downward trend. OK, there was mention of a net loss of $0.6M, but that was less than in the previous year. So, in effect good news and as expected by the pros. Revenues in the Enzo Life Sciences segment were 5% down in Q1 and the gross margin as a percentage of revenues was down by 3% compared to the year before. However, compared to all the positive mentions, e.g. total revenue up by 5%, lower operating costs, positive cash flow, conditional approval of 3 diagnostic tests, I just don't get why the price kept going down. Announcement of the validation of another biomarker detection test in Jan 2018 didn't do the price any good either. Finally, some bad performance was announced in the Q2 report (Mar 2018), which may be responsible for the most recent leg of the decline in March 2018.
This is really confusing. Obviously, I'm just getting into biotech trading. Right now, it looks to me as if it's safer to trade stocks like ENZ mainly based on technical indicators than news, press releases or fiscal reports.
First published on the Steem blockchain.